Written by Mohd Nazley Mohd Fadhley
Jul 25, 2003 at 06:18 PM
I was going through Palmgear looking at new and updated softwares that is OS5 compatible and I came across this nifty little application called Relate, developed by nibble.net

Relate, is a hack-like program that enables you to link the information you have in the built-in PIM softwares ... hence, the name. You can have a memo that relates to a contact; or a task (to do), that relates to a meeting; or a meeting that relates to a memo, and so on.

I do find this PIM enhancement useful.

Iambic Agendus and Datebk5 users may find this linking of tasks and events built-into the application. So, if you already use either of the two applications, Relate would be redundant.

I just would like to compare Relate with Agendus. Agendus is a contact"centric" application where events and tasks are assigned to a person. When you open a contact, you can check the meetings and to dos that involves that particular person. Relate accomplish this by creating a link of a task and/or memo to this contact.

Below is an example of how a task in the To Do List is linked to a contact in Address book.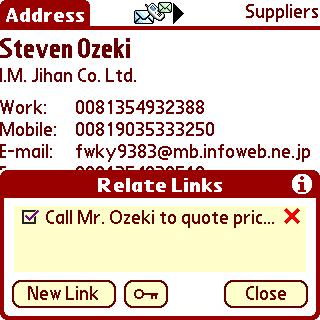 A small window will pop-up showing all links related to the contacts. In the snapshot above, there's a to-do associated to the contact. I can further add other tasks or even another contact to the list of links.

Datebk5, on the other hand, is a meeting"centric" datebook where you normally create a datebook entry first then assign contacts to the meeting or tasks. The "linked" information is marked with an icon and tapping the icon will show the people that were involved with the meeting. Relate can also do this as illustrated below: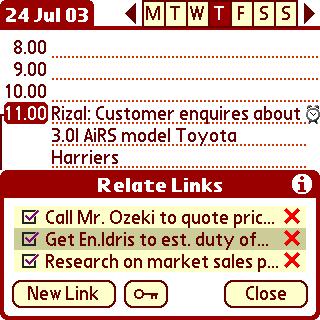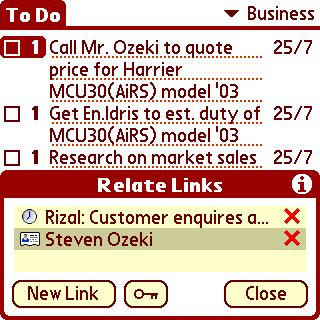 There is one thing that Relate could do but neither Agendus nor Datebk5 can .... assigning links of contacts, tasks and meetings to a memo.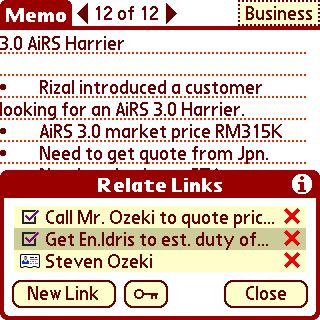 I can link several contacts to the memo, meetings associated to the memo or tasks relating to the memo.

There is however a limitation. All memos, contacts, tasks and meetings need to be entered first into the respective PIM applications before the linking can be done. This means grouping of information need to be done after all the scheduling and notes have been made.

Despite the limitation, I still recommend this application to those who are still working with the "stock" Palm application and would like to tie up the information between the applications. This handy tool will only set you back USD7.99. It's good deal, in my opinion.

Download and try this out. The demo version will limit the number of links you can create.


Tapping off,
Mohd Nazley Fadhley
Last Updated ( Oct 30, 2005 at 09:13 AM )