Written by Mohd Nazley Mohd Fadhley
Sep 18, 2002 at 03:47 PM
After reading about the soundbug earlier this year, I got really excited about this new technology, and recently bought one for myself.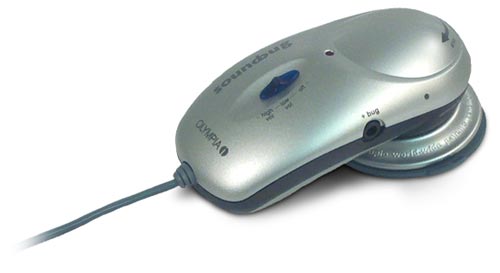 It's a portable sound replicator ... but not exactly a speaker.

The soundbug is a small gadget the size of a computer mouse with a rubber suction cup at the bottom, instead of a roller or an optical laser. The suction cup is the mechanism to attach the soundbug to any smooth surface for the soundbug to generate aubible sound. At the center of the suction cup is the "core" which touches the surface, the soubdbug is attached to. When audio signal is received by te device, the "core" vibrates and in turn vibrates the surface it comes in contact with, producing sound ... turning the surface into a speaker.




The soundbug has a tail ... a cable or chord with a standard stereo connector where you can plug into portableCD/Cassette player or Notebook computers.

Now, the part, most of us is waiting for ... the sound quality.
Personally, I was quite disappointed. it sounds just like my "antique" AM-FM transistor radio. The soundbug gives out enough decibels for you to hear but, you won't be dancing to the music. Some budget "micro" speakers gives out better sound. It lacks the deep low bass sound which, in my opinion gives a piece of music its depth.

Coupled with my 15 year old Sony Discman, I tested the soundbug on several surfaces to determine what type of surface medium will churn out the best sound... on a car windscreen, CPU of my PC, Glass window, Dresser mirror, wood table (with mica smooth top) and glass coffee table.

The result ... the dresser mirror gives the loudest sound, although the sound clarity is less, it is loud. The best sound quality is when I placed the soundbug on the smooth surface of my office desk. The soundbug gives clear sound output but a little soft in the volume. The Car windscreen produces the worst sound, I would think that the windscreen is hard and securely attached to the car that the glass cannot vibrate that much.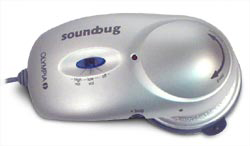 My personal opinion of the gadget … its just a novelty item. At USD 29.95, I'd get the off-the-shelf small speaker. I now use the soundbug with my discman by attaching it to the discman's "body". Not so great sound but convenient for traveling and when I don't want to plug on the earphones.

Tapping off

Mohd Nazley Fadhley
Last Updated ( Oct 30, 2005 at 09:28 AM )