For those who like slick looking gadgets, I think NR70 will definitely be top of the list. Despite being 'folded', it is still thin enough to fit nicely into your pocket. However, I don't think it is advisable to place it in your shirt pocket. The unit is slightly heavier than a m505, it can fall off the pocket quiet easily.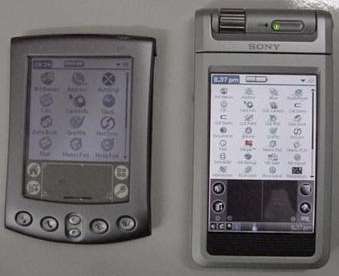 When closed, the digital camera is the only part that it still accesible. Mainly because the camera can be rotated, and snap button is located externally at the top left corner. The on/off button is also located at the top externally.
The location of the stylus needs to get a bit used to. The usual normal position for PDAs is at the right side, exiting towards the top of the PDA. NR70V's stylus however is located still at the right side, but exiting towards the bottom, and the stylus is pretty small and thin.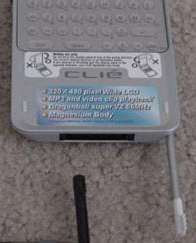 Open sesame.
Opening the unit is easy. There's no snap-on lock or something to lock the unit when closed. It is closely resembles a laptop in an open position. I guess this is the closest PDA you can find that looks really like a miniaturize laptop!
The keypad is nicely position at the middle. This means that when you hold the unit with both hands, both of your thumb can reach the keypad buttons nicely. However, I think for people with big fingers will find pressing the correct keys a pretty 'adventarous' task!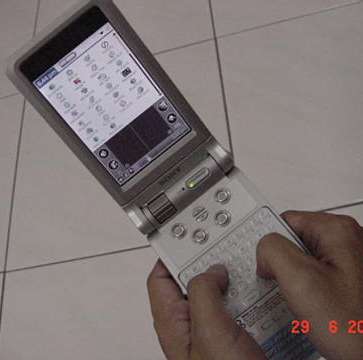 The application buttons, and the up/down scroll buttons (datebook,todo etc etc) are placed towrdas the top of the keypads.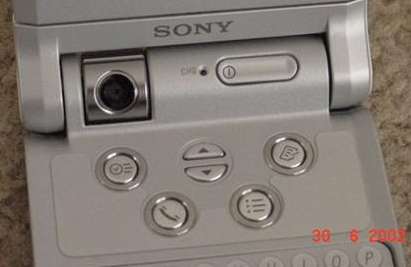 The jog dial is located at the left side. This is pretty new to me, and i find it very very usefull. Works almost with all applications. There's a button call the 'Back' button, which works almost like the Back button of your Internet Explorer, Netscape etc etc, it goes back to the previous application you've executed. Pretty neat, but I noticed it only goes back one step only. And the button is really small. Need to use my fingernail to properly press it! And If you have a 'soft' finger , you will have a hard time using it!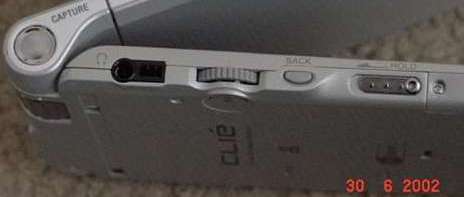 No more Low-Res for me! :-P
Now, frankly I drooled everytime I look at the super-super Hi-Res screen!! LOL! Just to get an idea, in my m505, the default palm launcher, when using the big icons, will diplay 3 icons by 4 icons in one screen. The NR70V will show a whoopping 4 icons by 7 icons!!! how's that for a hi-res!
I am a heavy ActionName user, and using it under a hi-res screen, it appears like it is showing 3 times more items in one screen. Very impressive. Not to mention Palm Planetarium in hi-res! Now I need to find a new serial connector to hooked it up with my telescope!
For applications not supporting hi-res, NR70V will intelligently change the whole screen into lower resolution. We can also manually select which application that supports hi-res in the Preferences menu.
I really like the 'soft'grafitti, utilizing the whole screen by disappearing when not needed. And when we write, it will leave a trail, thus allowing us to check for errors when we write.
Mini-digi-cam
Maybe we have heard some reviews saying why does Sony add a small limited-function digital camera with NR70V. I guess I know why. For the past 4 days, I have snapped more photos using my clie than my digital camera!! I find it convenient to use , especially when you one have snap quick photos around you. I had a birthday gathering for my niece yesterday, and I find it very handy.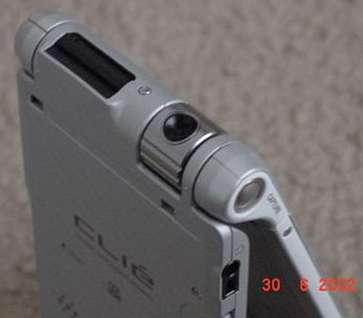 It has 3 mode of resolution, 320X240, 160X120 and 88X88, as well as 4 choices of effects (B&W, sepia,neg-art and solarize). You can save it either internally, or direct to your Memory Stick.
Sony applications.
Sony provides with some pretty nice applications, Audioplayer for playing mp3. We have to store the mp3 files to a MS, a default setting I guess. I don't see any harm storing small mp3 files in the internal memory, though. And also not all mp3 formats are compatible. We need to change the bitrates and kHz of the files to make it 'compatible' with the application. Very fussy, especially when I was hoping it will be a 'drag-n-drop' and play immediately kind of thing. If the clie user is not the techno kind of person, they will find it pretty frustrating. Sounds from the unit's external speaker is not that loud, easily drowned in noisy places, but sounds really good when using the earphone. But one thing I like about Audioplayer is that it allows you to executed other applications while playing the songs. Multitasking in a palm? Intriguing .
CLIE camera is for the digital camera. CLIE Paint is pretty cool. It works like a normal palm paint program. But interestingly, we can also edit pictures taken with the digital camera, or any other image files loaded, and we can do some simple editing using clie paint.
CLIE Remote Commander is another handy remote control apps. Tried it on my Philips TV and works flawlessly. Tried from 10 feet and still works! Maybe we can have some fun at the TV shops..hehehe
GMovie is some kind of movie player. Has not explore it yet. I will review it later.
PicturePocket is an image viewer applications. It will display images stores internally and also in the MS. BTW, images are stored in PGP and DCF format. We need to use the desktop apps to import and save it as Jpeg.
Photostand is another neat application. It is something like a screen saver. It will display an image or cycle through selected images, like a photo album. We can also display a calendar or clock alongside with the images. And this one I really like, it will play any mp3 songs you have as the background sound! Really need.
WA clock is a simple clock application, which has a configurable alarms, and displaying up to 3 city times. The gui is pretty nice.
MIDIs and WAVs
The MIDI files sound really nice, something like the new Samsung h/p tones. We can also import WAV files from the PC, but again only files in a certain wav format are compatible. But then, it is nice to be able to hear you own voice yelling "Wake up lahhh, you're late" as an alarm, compare to the normal midi tone! :-P
Conclusion.
Personally, NR70V brings a fresh new look. Underlying the normal set of applications running on PalmOS, Sony has brought a satisfying new design and looks, without compromising the practically and simplicity of a PDA. Great device for those who still wants to use the PDA, but with some extra bits of nice little changes and gadgets to spice up their everyday routine. A bit expensive though, but if you're a palm-fanatic, anything goes!!!
I have uploaded some photos. Check out http://groups.yahoo.com/group/palmx/photos/ and choose "NR70 vs m505" folder.
regards
- -
Additional review by :-

Review by PalmInfocenter
Review by the Gadgeteer