The Quest For The Perfect PalmOS Internet Browsers.
I have been connected to the internet using my handheld since 1999, clipping a Palm Modem to my Palm IIIe ... managing emails and occasional surfing. For emails, I've been using MultiMail pro since then. However, my favourite internet browser, Browse-it, I can use no more. Its developer, Puma Technologies, has pulled the plug on this browser sometime in 2000 (I cannot remember the actual date). That made me search for a browser replacement and three browsers has a permanent space in my HandEra since the "death" of Browse-it ... Blazer, Avantgo and Pocket Link.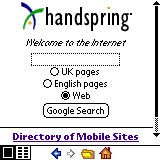 Blazer, just like Browse-it, works via a proxy server which "re-formats" a webpage to fit your tiny PDA screen ... and this server makes downloading webpages, well ...blazing fast. Blazer, downloads text first then only images and it allows you to read text and scroll up/down while it downloads the images. I would think this property makes one feels that Blazer is a fast browser. Sometimes, though, when server traffic is heavy, things get verrrryyy sslloooowww.

As fast as Blazer is, it is not my choice of "off-line" browsing. That award goes to Avantgo.

Avantgo is also a "server" based web browser. It is, in my opinion, the best off-line browser around. Speed wise, Avantgo falls behind Blazer. But, in terms of stability, Avantgo is THE browser for PalmOS devices.

As an on-line browser, I would say Avantgo does the job well too. A little slower corpared to Blazer but good enough for me. My gripe with Avantgo is that it cannot do "bookmark". While online, I have to enter the full URL every time I wanted to go to a particular site. It has a "history" listing of recent URL, but I don't really use the function.

Since Blazer and Avantgo has its own strong points, I use Avantgo for offline browsing and Blazer for online browsing.

There is the third browser that I still keep in my PDA ... Pocket Link.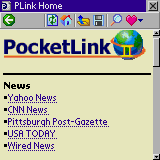 Pocket link is a "true" web browser since it uses the palm processor to translate the html tags and display the webpage in PDA size format. Palm's teenee processor made the loading of web pages slow … really not recommended if you are connected to the net using your mobile phone. I only use Pocket link if I am connected using a CF modem or connected wirelessly … Wi-Fi.

If it is slow why would I keep it, you might ask?

Because it supports HandEra 320x240 resolution and since it is not dependent on a "proxy", I use Pocket link to surf the net when Blazer's server is down. Secondly, I use Pocket Link to upload news to the palmx.org website. I have very little problem (almost none) using the "upload" form prepared by Dr. Azmi. (On Blazer and Avantgo, I will encounter problems, sometimes which requires a reset when submitting the forms). Pocket Link is also able to download and install .prc files directly from the website but I have not tested this feature yet for me to make any comments.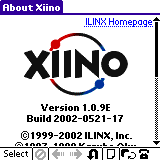 In all the three internet browsers, none support java script. So, some pages that uses javascript cannot be viewed in its entirety.
As far as I know only one PalmOS browsers has support for java script … Xiino. I really wanted to try out this browser but it had so many problems on my HandEra that I gave up testing it. I would think it is the HandEra's "odd" screen resolution that is causing the problems. Well, perhaps some other palmx members can give an overview on this brower later on.
There you have it …. My experiences testing out PalmOS internet browsers. No single one is perfect for me. In the end, I use three browsers in my PDA. You cannot win 'em all.

Tapping off