OK it's official. Astronomy Interest Group Putra of UPM will be organizing another stargazing session as below:
Date: 28 August 2004 (Saturday)
Time: 8 - 11 PM
Venue: Padang Kawad, UPM.(Click HERE for the MAP)
( Turn in left at the junction going in towards Kolej Kediaman area, immediately after that turning, you should see a small road turning to the left. The Padang Kawad is in just by the road side on your right )
Hopefully this time around the weather will be better than the previous one attended by some of palmx members. This activity is open to all, thus bring along your family (kan sekarang cuti sekolah pun...) and friends. There'll be some short talk that night (by myself), and hopefully we can do some LIVE viewing of those heavenly bodies on screen... :o)
Bring along your Palms, installed with Planetarium, and I'll give a short demo on how to use it under real sky, InsyaAllah.
Astronomy apps;
i. J-Moons http://mew3.com/palm/jmoons/
ii. Lunar http://www.astro-metrics.com/Lunar.html - shareware
iii. Moon Phase http://pws.chartermi.net/~sckienle/palm/default.html --> similar like Lunar - freeware
iv. Planetarium http://www.aho.ch/pilotplanets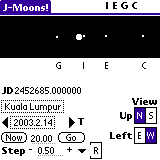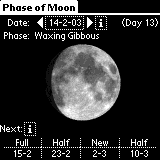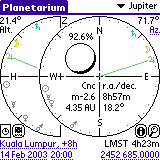 and ohh... I'll be expecting K.A. and Hamid to be around as "usual"... hehehe
-Shah-