| | | | |
| --- | --- | --- | --- |
| PalmX BTM - Family Picnic - 2 Jan 2005 | | | |
Written by Admin PalmX.Org
Jan 02, 2005 at 03:29 PM


Palmx.org will be holding a special BTM to usher in the year 2005 ... "The Palmx Family Picnic"

Event details:-
Date : 2nd January 2005
Time : 7.30am to 10.30am
Place: KLCC Park, Kuala Lumpur**
Type : Pot Luck style family picnic
Proper jogging attire recommended.

At 7.30am we gather at one of the R&R Stations** located along the park jogging path. We'll start with some stretching exercise then do a few laps around the park (jogging/brisk walking). After we break some sweat, we regroup at the R&R Station for some coffee/tea and breakfast, plus the regular chit chat with friends/family.

Bring along your new toys and gadgets for show and tell, and don't forget to take your camera with you for some fun (hope I don't sound too geeky :P)

And the most important part ... food and refreshments. For the pot luck, the moderators will handle the drinks/refreshment, other members can contribute the breakfast. :-D

Let's make this a fun picnic for all ...


** Note:
The R&R station number and exact location will be updated later.


Update: The family picnic will be held at Station No.16 KLCC park. It is the first Hut facing the fountain, just before the bridge. Below is a location map.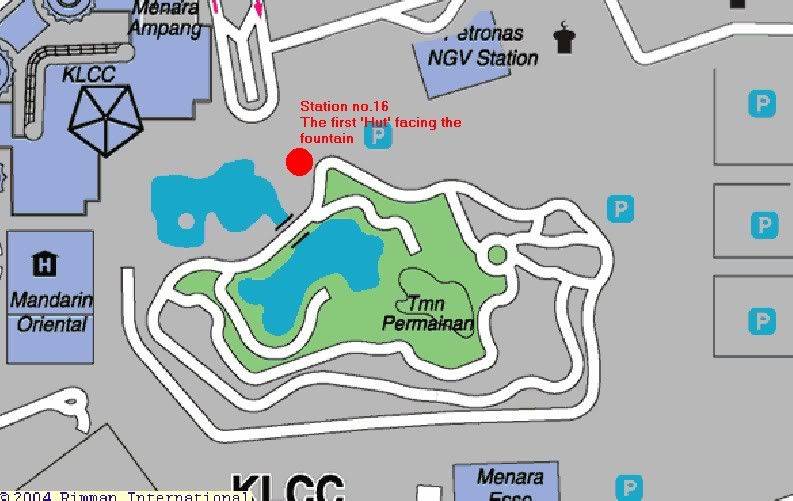 Last Updated ( Oct 30, 2005 at 10:53 AM )