Written by Mohammad Hasni Ibrahim
Jan 04, 2004 at 05:38 PM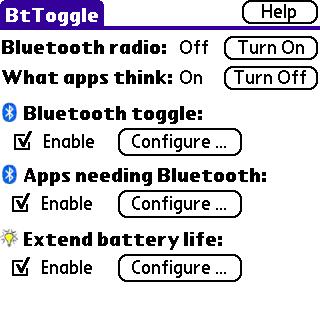 I came across this software when browing through Palmgear for some games. It caught my attention when it said that the software can help reduce my T2 battery consumption. Why I am so concern about battery life? I am using the Bluetooth quite regular and if I let it turn on all the time surely my T2 battery will be drained. So I downloaded the Pro version of this software... hmm.. not bad. It not only takes care of my BT usage but also have power saving option for my T2 hard buttons.

Let us go into the software... when i first install the program, it gives me the welcome screen where you can find the register button for this product. Tapping continue will bring you into the main screen.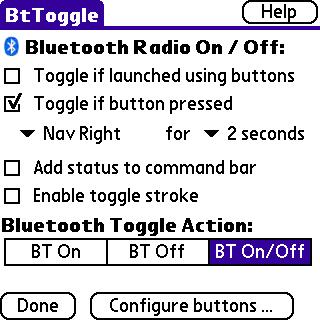 On the main screen you can see two buttons for the Bluetooth configurations and another two on top of he program on the status of the Bluetooth. You can turn on the BT manually by tapping turn on/off on the side of Bluetooth radio dialog. The best part is that you won't be bugged wih the 'Turning Bluetooth On or Off' anymore... it is flawlessly done. Neat. The apps give you two easy ways to configure your bluettooth need. You can setup the bluetooth toggle which you can use to switch on/off your PDA BT capability.This is done through setting up buttons or option on the command bar or by pen stroke. The BT radio will be switched on when you press any button that you have configured on this screen. Or you can also programmed any of the hard buttons to turn on the radio by pressing them more than a specific interval.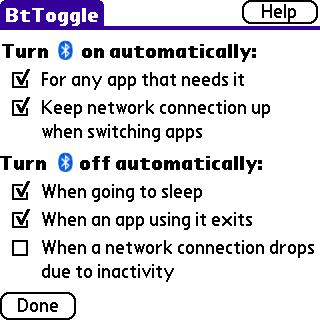 Not only that you can also program the application to switch on or off when any of the software need it.. On the second bluetooth button is where you configure the apps to handle request from software needing bluetooth connection by turning it on/off automatically. You can make the BT to be on while switching apps just like what it says there. It does a very good job on this especially when you need to move between apps while connected to your BT devices ie connecting to your ISP and move between email and web browser. It also switch off the BT radio when your PDA turn off and as when the app using it exits. I regularly send sms from my T2 through my T39 and after finish sending the SMS and exiting funSMS, the BT is automatically turned off. Cool!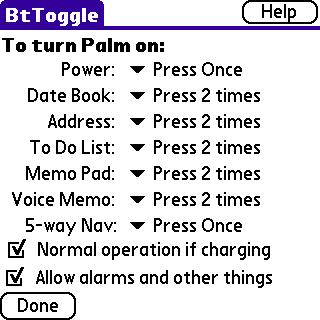 Another thing that I like here is the function that help to avoid unnecessary switch on by my T2. Previously I need to regularly check my T2 which I put in my pocket to ensure that it is turn off. With BT Toggle it is already taking are of the problem. You can configure all your hard buttons to only switch on your PDA with more than one press or just disable it. It is not as some apps that can give you combination of bard button press to turn on your PDA but it does help to avoid battery drain due to unnecessary switch on.

All in all, it is a value for money and keep BT enable PDA users to keep their battery to the max. I have been using for almost two months before I can put upo this review. And I strongly feel it is a must for us BT users ... very highly recommended. You can try it from Palmgear.com or direct from the developer www.whizoo.com


Mohamad Hasni Ibrahim


Disclosure: Review done on Psion Mnetbook
Last Updated ( Oct 30, 2005 at 02:27 AM )